Clean water, Fresh Air is great!
The natural hometown I grew up in.
It's been about 20 years since I left my hometown, but even now, I still go back to Toyama Prefecture, where my parents live a few times a year. There are places that have changed, places that haven't changed and places that I feel different compared to when I was younger. But, when I go to the place where I was born and raised, I feel the most relaxed.
---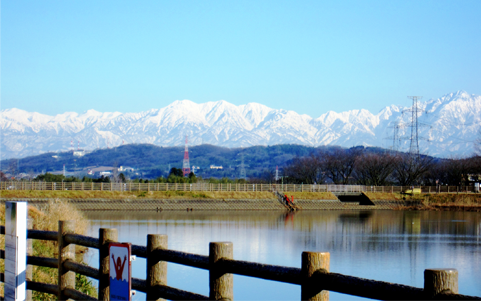 A boastful view - Tateyama Mountain Range -
From my hometown, you can see the Tateyama Mountain Range. It's my boastful view. If the air isn't clear and it's not sunny, you won't be able to see it clearly. So, even for the people living there, if they can see it clearly, it's a special feeling.

From a small age, almost every day I said "The Tateyama Mountain Range is beautiful today!" or "We can not see the mountains clearly today..." with my family. Even now, when it's a day you can see the mountains clearly, my mother sends me an email.
---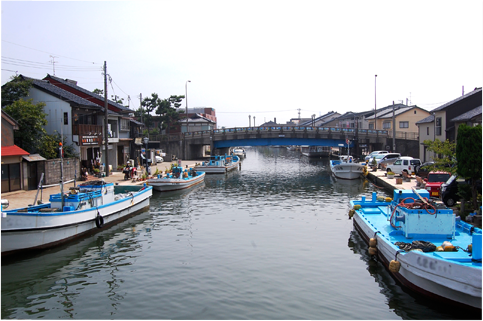 Waterside town
This beautiful town by the waterside is one of my favorite landscapes. There's a gently curving river. The balance of fishing boats and houses along the riverside is interesting. It's called the "Venice of Japan".

Recently, the empty houses and storehouses are being used for cafes and for movie shooting. Because of that, the amount of tourists has also gone up, but I hope the relaxed atmosphere continues on for a while.
---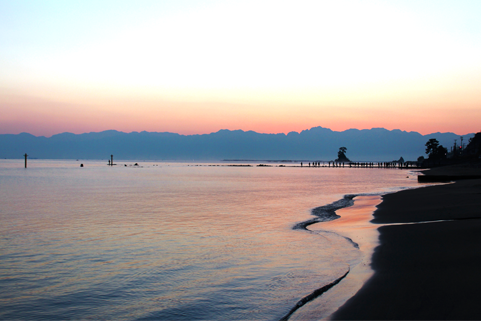 Grandparent's Memories - Bathing beach -
From this beach, about ten minutes by walking, was my grandparent's field. When I was a child, after I finished helping the farm work or after I was dirty from potato picking, I was often taken to this beach. Looking at this view and listening to the sounds of the waves, I remember the fun times I had.

You could see the Tateyama Mountain Range across the sea. From the mountain, the sunrise is very beautiful, so to take this photo, many people were gathered here.
---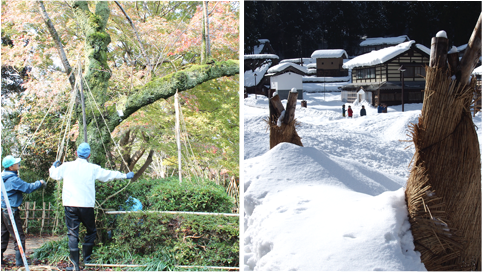 Winter preparation - Snowsheds and Snow shields -
In Toyama, a lot of snow falls in the winter. From the middle of November to the beginning of December, you can see the beginning of construction of snowsheds and snow shields around the cities.

When the snow is heavy and the temperature is low, the trees go bad. Because of that, to protect the trees, they are covered with bamboo or nets and tied together with straw. Snowsheds and snow shields are part of the culture in areas where a lot of snow falls, and the sight of them makes me feel that winter has begun.

And, in the beginning of March, they are taken down. After that, the preparations for the start of spring begin.